Readings in Spiritual Theology
"The two terms, 'spiritual' and 'theology', keep good company with one another. 'Theology' is the attention that we give to God, the effort we give to knowing God as revealed in the Holy Scriptures and in Jesus Christ. 'Spiritual' is the insistence that everything that God reveals of himself and his works is capable of being lived in ordinary men and women in their homes and workplaces.

'Spiritual' keeps 'theology' from degenerating into merely thinking and talking and writing about the feelings and thoughts one has about God. 'Theology' keeps 'spiritual' from becoming merely thinking and talking and writing about God at a distance. The two words need each other, for we know how easy it is for us to let our study of God (theology) get separated from the way we live; we also know how easy it is to let our desires to live whole and satisfying lives (spiritual lives) get disconnected from who God actually is and the ways he works among us." – Eugene Peterson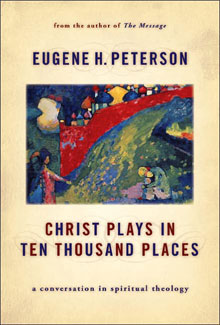 I've long been wary of pragmatic books on "spirituality," mostly because of how often they seem to be frivolous self-help affairs that wrap their message in God-talk while being utterly detached from anything resembling the witness of the Scriptures or, more to the point, the Word-In-Flesh.
But I've come to realize there is an opposite danger, one I'm particularly prone to as an avid reader of books on biblical studies and theology. That danger is one of detachment from day-to-day life, of talking about God and other people's experiences with Him without that changing the way I live and love.
On a whim I started reading Christ Plays in Ten Thousand Places
, and I think that Peterson's concept of Spiritual Theology is exactly what I need to bridge that gap. A spirituality that is intensely theological, and a theology that is spiritually furnished to change not just my mind but also my heart.
So, that in mind, I'm putting together a reading list. I plan to read the rest of Peterson's Spiritual Theology series, and I've also added Foster's Freedom of Simplicity
, Nouwen's The Return of the Prodigal Son
, Williams' Resurrection: Interpreting the Easter Gospel
, and Brueggemann's The Prophetic Imagination
and The Practice of Prophetic Imagination
.
No doubt this will shape the content of my post for quite some time. If you have any suggestions for additional reading, or would perhaps like to work through one of these books together on the blog, let me know!
Grace and peace.